Your COBI Marketing/International Business Connection!
There are always exciting things happening in The University of Toledo College of Business and Innovation Department of Marketing and International Business. All of our 7,000+ UT COBI Marketing alums are important to us as you make a positive impact around the world, which is why we want to share some important information with you through this newsletter. We want to know about your career and professional achievements and share this good news with other COBI marketing grads, so send that information to us via my email below.
Dr. Thomas Sharkey, Chair, Department of Marketing and International Business
___________________________________________________________________________________
COBI recognizes Russell Ely as outstanding Marketing Department alum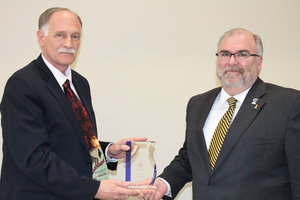 Russell Ely was honored on April 13 as the Marketing and International Business Department recipient of the University of Toledo College of Business and Innovation's first Departmental Alumni Recognition event. One outstanding alum from each department within the college received the award. 
"I want to express my sincere appreciation and thanks to the University of Toledo College of Business and Innovation Marketing Department Awards Committee for recognizing me as the inaugural Marketing Department Outstanding Alumnus," Ely said. "Your selection of me was a surprise and is very humbling. I thank you for this recognition but believe the credit should go to the many wonderful UT professors and staff who encouraged and challenged me."
__________________________________________________________________________________

---
Marketing professor infuses her love of international travel in her students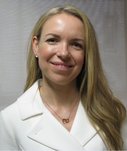 Recognizing that business functions in a global economy, it clearly benefits UT COBI students that Melanie Lorenz, one of the newest Assistant Professors of International Business in the Department of Marketing, has both lived international business and loves international travel.  
"Since I was an undergraduate student obtaining my Diplom Betriebswirt in European Business Management, University of Applied Sciences, Worms, Germany, I've been interested in international business. During my studies I also worked on internationally-oriented consulting projects with SMEs and studied abroad in the U.S. and Mexico, and that gave me a solid foundation for my career."
Beyond the appeal of international business, Dr. Lorenz also just loves to travel and interact with people from different cultures. 
"One major foreign experience I had was living with a Mexican family for six weeks," she recalled.  "I was not a tourist; I was part of a family, and was forced to adjust."
___________________________________________________________________________________

COBI students win big at American Marketing Association competition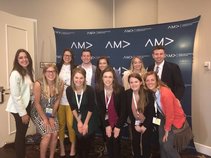 The UT COBI Department of Marketing was well represented at the 37th annual American Marketing Association International Collegiate Conference in New Orleans in March, with 18 students attending. When they returned home from the AMA conference, they brought additional significant recognition with them.
"First, we were again recognized for our Exemplary Collegiate Chapter Performance," explained Dr. Mark Gleim, faculty advisor to the COBI AMA team. "We were evaluated on our performance for the entire year, and with more than 370 AMA chapters submitting their reports, this is a tremendous accomplishment for our students to be recognized with this accolade."
"Other firsts for our Chapter at this year's competitions at the conference include the duo of Riley Shull and Dina Teeti competing in the Marketing Strategy competition, taking 5th place out of 98 teams," Dr. Gleim said. "Furthermore, Jack Nachtrab and Madison Curl competed individually in the Perfect Pitch sales competition, were one of the top 30 out of 200 competitors and each made it to the finals. "Madison took Honorable Mention, placing her as one of the top 7.  These are tremendous accomplishments for our chapter and something that we have never earned before."
"Additionally," Dr. Gleim said, "we nominated Madison for the AMA/USCA Sales Student of the Year award and she came in second place out of all the elite AMA members who were up for the award! Because Madison is only a junior this year, it makes the accomplishment even more impressive." 
Note! Your previous donations helped COBI students attend the American Marketing Association International Collegiate Conference in March of this year! Thank you!
___________________________________________________________________________________
Study abroad trip broadens business horizons for COBI students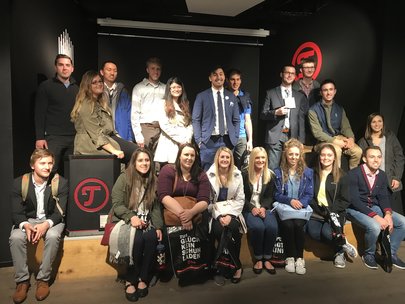 As soon as UT's Spring, 2017 semester ended and the last graduates walked off the stage with their cherished diplomas, dozens of COBI students embarked on an engaging study abroad program to London and Berlin.
All College of Business and Innovation students - all majors - are strongly encouraged to study abroad during their undergraduate degree program. Study abroad programs can assist students in the development of academic, intellectual, personal, professional and cross-cultural skills.
These two-to-three week study abroad programs are led by College of Business faculty members, with Carol Sullinger and COBI Dean Gary Insch leading this May's trip.  Examples of College of Business faculty trips include eastern Europe, western Europe, and Asia. Opportunities vary from year to year.
__________________________________________________________________________________
COBI marketing and professional sales highly ranked by Eduniversal
Eduniversal, a global ranking and rating agency specializing in higher education, has again repeatedly included The University of Toledo College of Business and Innovation in their latest listing of Best Business School programs.

The just-published results of the Eduniversal Ranking for the 4000 Best Masters and MBAs in 32 fields of study worldwide ranks UT COBI's Marketing and Professional Sales program number 37 in marketing in North America.
In announcing the rankings, Eduniversal stated: "This recognition acknowledges the quality and success your institution has achieved over the past year, to which we measure across three main criteria:1) The reputation of the programs: highly recognized by recruiting companies and have an active approach towards them. 2) The salary of first employment after graduation: placement of your graduates in the best job positions on the market. 3) Student satisfaction: working to improve your programs by taking into account feedback from your students."
 "We are very excited by these prestigious rankings, which validates the high quality of our faculty and students, as well as the significance of our curriculum," noted COBI Dean Gary Insch.
__________________________________________________________________________________
Marketing alum credits UT COBI for her success at Marathon
Marketing plays an integral role in the business world. From product promotion to pricing and distribution, marketers need to be able to think strategically and make decisions quickly. The University of Toledo's Marketing program provides students with a solid foundation to have a successful career in marketing.

Engaged and passionate faculty: The marketing faculty at UT is second to none. They are passionate about the subject matter and many professors/instructors have had successful careers in the field prior to teaching.
Relevant coursework: From Principles of Marketing to Consumer Behavior and Advertising Strategy, the coursework is relevant. Various case studies and group projects give students a glimpse into real world situations.
Real world experiences: The College of Business and Innovation has a plethora of marketing internship opportunities available with great companies in Toledo and around the country. My employer, Marathon Petroleum Company, has been very pleased with the marketing interns and full-time new hires that have attended UT.

I proudly attribute much of my marketing career success to the well-rounded education I received from the marketing program at the University of Toledo. Go Rockets!

Kathryn Schneider
Brand Territory Manager, Marathon Petroleum Company
__________________________________________________________________________________
COBI team wins national invitational sales competition it hosted
Professional sales students from 30 universities across the United States came to the University of Toledo College of Business and Innovation on February 24 & 25 to compete in the second annual University of Toledo Invitational Sales Competition (UTISC).
When the competition was over and all scoring sheets tallied, the team from the COBI Edward H. Schmidt School of Professional Sales (ESSPS) - - which presented the event - - won the competition!
 "Last year at the UTISC, our University of Toledo team did really great job; we were in the top ten, both of our students made it to the semifinals, and that was really exciting," explained Deirdre Jones, ESSPS Director.  "Our team this year did a great job helping each other to prepare. It was truly a team-based effort.  We had great faculty coaches, and this year we won! It was fantastic, a great moment. The results between first, second and third we all very tight, but not only did our team of Taylor Busse and Jovan Sanson win, but Busse took first place in tjunior division, and Sanson finished 4th in the sophomore/freshman division.  Really proud of their efforts and how they represented the University of Toledo."
__________________________________________________________________________________

Click here to support the UT COBI Department of Marketing and International Business